How to Choose a Pendant Lamp for Kitchen Lighting
3 min read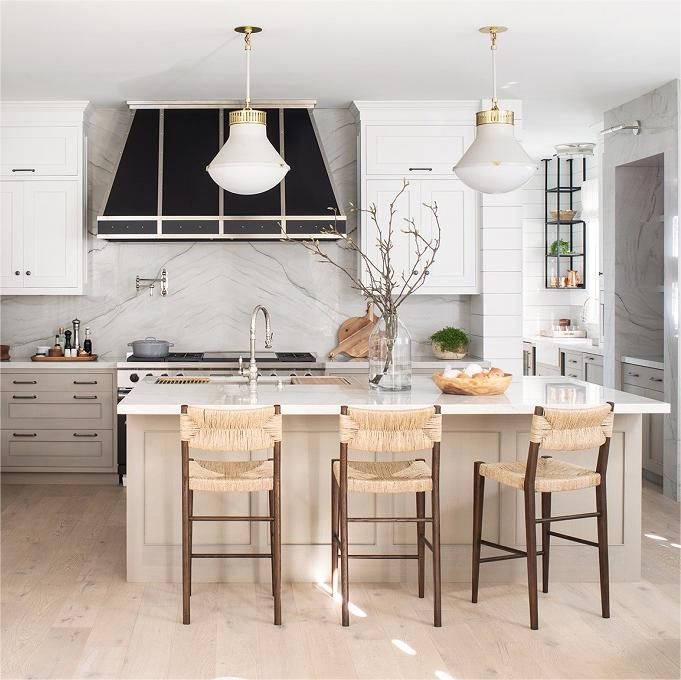 Pendant lamps are a popular choice in kitchens for their ability to light up large areas. They can also serve as statement art pieces. Whether you're going for a more casual look or something more formal, these light fixtures will help to make your space feel warm and inviting.
Style & Positioning
Pendant lights are typically a fixture that hangs lower than ceiling-mounted lamps, making them a good option over islands or dining tables where they won't cause an obstruction. They are also a great choice for hanging over bar or dining areas, since they don't create an unwelcome shadow under the furniture.
To determine the best placement of your lighting, start by determining the length and width of your island or dining table. This is a good place to start because the height of your pendant light will be based on how far it goes from the floor to the ceiling.
If you're using a single pendant over your island, it should be at least 28-38 inches above the surface of the counter. Alternatively, you can use multiple pendants over a larger area to achieve more lighting and greater balance. To make sure your pendants are evenly positioned, follow the following tips:
Size
The size of the pendant light is also a factor when determining its position. Smaller pendants are best used for task lighting, while larger ones provide overall illumination. For example, if you want to illuminate your sink area, you'll need a bigger pendant lamp.
Shape & Design
Pendants come in a variety of shapes and designs. Some are more contemporary than others, while others have a classic aesthetic that will appeal to fans of timeless design.
For those who love a more dramatic style, opt for sculptural glass pendants that create an eye-catching focal point. These will be particularly effective in country-style kitchens, where they can evoke the feeling of a farmhouse.
Another sculptural glass option, the Soleil, features a delicate glass starburst shape that's formed by hand. The shade is available in clear or amber glass for a warm or bright tone.
Similarly, the Bond suspension pendant has a slender gap that winds around the bulb for diffused ambiance and focused task lighting. It's available in a range of modern colors, including a matte black option.
Color & Style
Lastly, consider the materials used to construct the pendant. Some are made from glass or blown glass, while others are crafted with decorative metals. Regardless of the material, you'll want to choose a fixture that can be easily cleaned and maintained.
If you're going for a rustic or cottage-style kitchen, a wicker lampshade is a perfect option. The woven material brings in texture and warms up the room, while a glossy tile-patterned lampshade gives the space a more sophisticated look.
For a more classic, industrial look in your kitchen, try a large pendant. They're especially striking over a kitchen island or prep station that needs a lot of illumination to help you get your tasks done. They can also help to highlight other decorative elements in the kitchen, like a backsplash or a wood countertop.