How to Create a Modern Style Bedroom
3 min read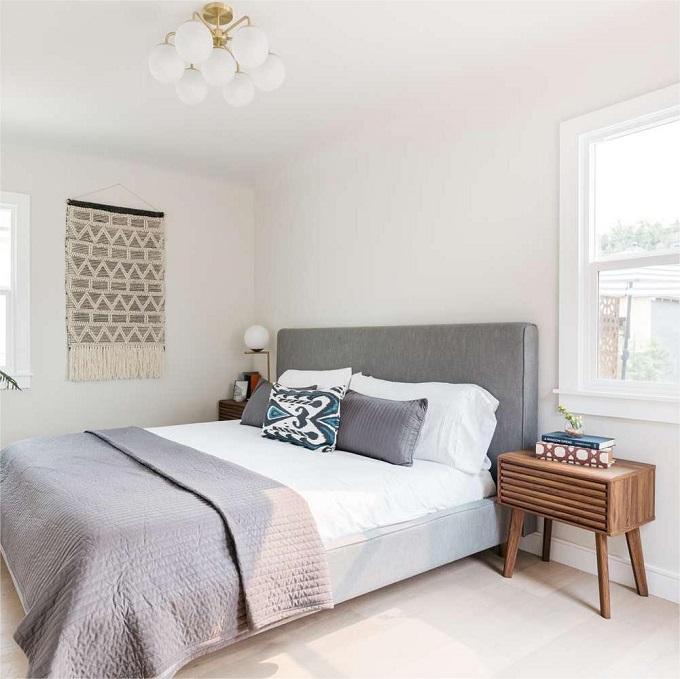 A modern style bedroom can be a chic choice for anyone who prefers simple and stylish decor. This popular style combines a simple color palette with sleek furnishings and accents for a look that's both timeless and chic.
To make your bedroom modern, start by selecting a cohesive color scheme that balances cool and warm tones. White, gray, brown and black are ideal neutrals for a clean, modern look.
Keep your room bright with window treatments that open to let in plenty of natural light. This can be as simple as a large paper pendant light that bounces light around the space or as intricate as oversized curtains.
Use a pop of color in your modern bedroom design for a more dramatic effect. If you don't want to cover your walls in bold prints, try a patterned headboard or nightstand instead. A patterned quilt or throw pillow can also add drama to your bedroom while remaining in keeping with the modern theme.
Don't forget to consider storage options when selecting furniture for your bedroom. The right pieces can help you stay organized and save valuable space. This is especially important if you live in a small home with limited closet space.
One of the best things about a modern style bedroom is that it's easy to mix and match elements without feeling like the overall design is too cluttered or overdone. A patterned blanket or throw, a collection of prints, a souvenir basket with a potted plant and a folded favorite quilt can all be incorporated into your room without looking too busy.
If you're feeling particularly brave, a bold wall is an excellent way to add drama and interest to your modern bedroom. If you don't feel ready to commit to a feature wall, try a gallery wall with your favorite art instead.
The key is to select artwork that complements the rest of your room's design. If the overall feel of your modern bedroom is contemporary, a minimalist piece with a geometric shape or an abstract painting can fit in beautifully.
Alternatively, you can incorporate a more traditional element into your modern bedroom to make the room feel unique and fresh. A modern-style bedroom with an ornate headboard paired with a vintage rug and textured wall hanging is a fun and unique design idea.
A custom-made bed and bench with a tufted headboard and a metallic flower vase topped with faux flowers add a modern feel to this Montecito, California, bedroom by Kim Alexandriuk. The bed and the tufted bench are upholstered in a George Spencer Designs velvet, the table lamps are by Ryan Mennealy, and the rugs are by Jorge Pardo for Christopher Farr.
When it comes to your bedroom, it's easy to fall into the habit of putting all your belongings on display. This can be a problem if you don't have the budget for a designer's touch, but it's not impossible to create a sophisticated and modern bedroom that showcases your personal tastes.