Minimalist Bedroom Decor
3 min read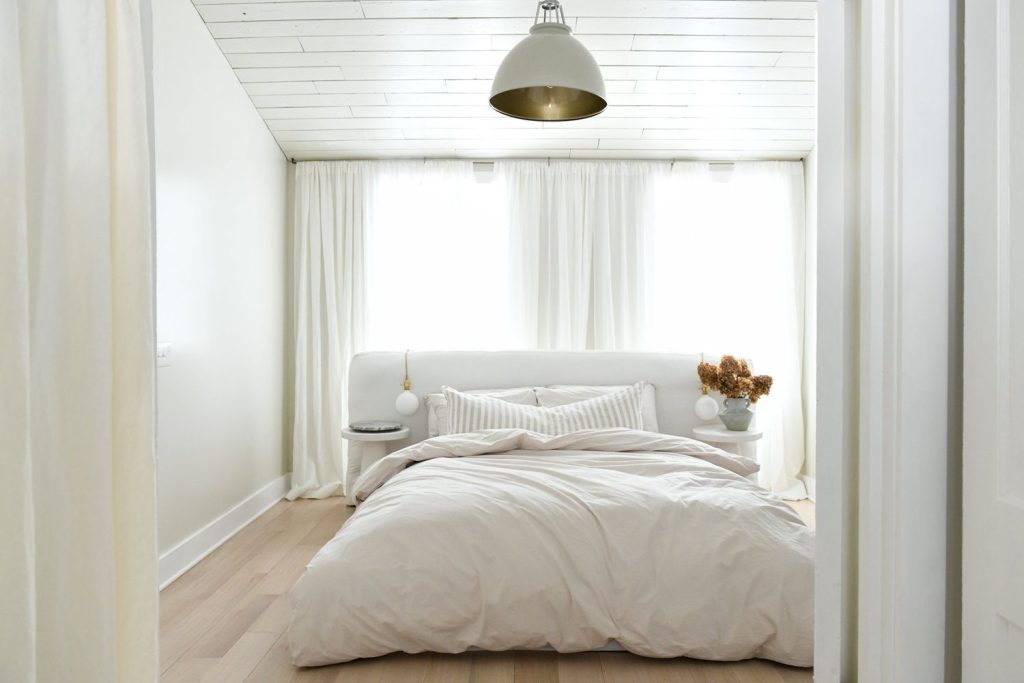 If you're interested in creating a minimalist bedroom, you'll want to stick with clear shapes and lines. It is also important to stay away from patterns, since patterns are visual flourishes and can add visual clutter. However, you can use patterns strategically to add visual interest and personality to your bedroom. For example, you can use patterned area rugs in combination with solid-colored furniture, and you can use patterned pillowcases on your bed to create visual contrast.
Simple shapes
A minimalist bedroom features furnishings made of simple geometric shapes. The furniture's minimal ornamentation creates a dynamic space. Likewise, the bed's shape contributes to the overall aesthetic.
Clear lines
Clear lines are important to a minimalist bedroom decor. Keep colors neutral and avoid anything ornate. Instead, go for sleek furniture. White is a great neutral for bedrooms. It is warm, clean, and modern. Other colors should be in the same color family as the walls. If a headboard is an important part of the bedroom, choose one with clean lines and avoid adding too much color. You can also use a plain wall or art as a headboard.
Monochrome color palette
A monochromatic color scheme for your bedroom decor can make your room look incredibly serene and uncluttered. You can also use different shades of the same color to create a more interesting look. Textures such as cotton and linen can also help to add visual interest. A minimalist bedroom should look clean and uncluttered, and the careful choice of pieces can help you create this look.
Wood panelling
Minimalist bedroom decor using wood panelling is a great way to introduce more natural elements into the room. The horizontal slats and grooves of wooden ceiling and wall panelling create an ambiance that's relaxing and calm. Exposed brickwork or a large wooden panel with floral carving provides a striking backdrop to a four-poster bed, while wooden flooring adds a touch of classic luxury to the minimalist bedroom.
Houseplants
A minimalist bedroom can benefit from a small plant, but there are many houseplants to choose from. Some people like to keep their room as airy and natural as possible, so the snake plant is a good option for this kind of decor. This plant prefers indirect sunlight and requires consistent moisture.
Canopy beds
A canopy bed adds a dramatic and elegant look to a minimalist bedroom. Available in various styles, they can be customized to fit any room's existing decor. Canopy beds also look good in rooms with high ceilings. While minimalist design is necessary, adding artwork or a decorative frame to the canopy bed will add depth and interest to the space.
Arc lamps
Whether you're looking to create a minimalist bedroom decor or a modern minimalist one, you can always add a modern arc lamp to your decor. The unique helix design and its chrome finish will give your room a modern look, but the lamp also features three light settings. This versatile piece of lighting can also blend well with other modern art inspired design elements.
Natural light
Natural light is a vital part of minimalist bedroom decor. Not only does it add a sense of openness and space, but it also makes a room appear larger. One way to bring natural light into a minimalist bedroom is to use large plants. A Fiddle Leaf Tree, for example, adds a splash of green while also providing a source of light.
Wood paneling
If you're interested in creating a minimalist bedroom, wood paneling can add the perfect finishing touch to the look. Not only is it an excellent way to add interest to a room, but it can also be used as a way to hide any paint flaws.
Canopy bed frame
A canopy bed frame adds a touch of sophistication to any bedroom. Made from metal, they feature fine details and a slat support system that provides optimum support for your mattress. They are durable, too, and will provide years of comfort. This frame does not require a foundation or box spring, and it comes in a simple box to make assembly easy.